In Memory
Bruce Celmer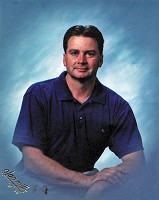 Bruce Lee Celmer was born Feb. 4, 1960, in Tacoma, Wash. and died April 25, 2008, at Banner Good Samaritan Hospital in Phoenix from cancer.

Bruce was raised in many states as his father was in the military. He spent most of his teenage years in Oak Harbor, Wash., graduating from Oak Harbor High School. He was active in the school ROTC program and joined the Navy after graduation. He spent six years on active duty, serving both stateside and overseas.

After getting out of the Navy, he lived in Virginia for several years. He moved to Cottonwood in 1997 and made his home here since that time.


He was an active member of the Cottonwood Assembly of God Church.

He loved to work on and restore old cars. He had his own business in Cottonwood for several years.

Bruce is survived by his parents, Ron and Fay Celmer of Camp Verde and Oak Harbor, Wash.; sister Debbi Patterson, of Ferndale, Wash.; brothers Steven and Jim Celmer of Watugua and Fort Worth, Texas; and his maternal grandmother, Irene Martin of Yakima, Wash.

A memorial service will be held today, April 30, at Cottonwood Assembly of God Church at 3 p.m.