In Memory
Christi Overton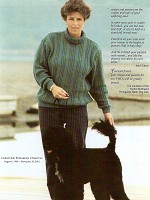 Christine E. Overton, PA-C

Public graveside funeral services for Christine E. Overton will be held Saturday Dec. 8, 2001, at 2:30pm at Sunnyside Cemetery. Pastor David Lura of the First United Methodist Church, Oak Harbor, will officiate. A time of fellowship and sharing for the family and friends will follow at Centennial Hall, First United Methodist Church, 1050 SE Ireland Street, Oak Harbor.

Christine Elizabeth "Christi" Overton died on Nov. 28, 2001 of sudden cardiac death at her home in Seattle, she was 41.

She was born Aug 6, 1960 in San Francisco. She moved to Oak Harbor with her family in 1972 and graduated from Oak Harbor High School with the Class of 1978.

Christi attended Central Washington University in Ellensburg for four years. In 1983, she began training at CWU as a paramedic and in 1984 achieved Washington state certification.

She worked for a short time in Vancouver and in 1985, was hired as the first female paramedic at Whidbey General Hospital.

Christi left Whidbey Hospital and worked for a time for a private ambulance service in Bellingham and also for Dr. Kent Freers veterinary practice. In 1992, she began work as a flight paramedic for LifeFlight Medical Helicopters at St. Josephs Hospital, Bellingham.

In 1995, Christi was accepted by the University of Washington to participate in the Medex program and in 1997, she was certified as a licensed Physicians Assistant (P.A.-C.) for Washington State.

Christi began working for the Veterans Administration Hospital of Seattle in 1998. She was assigned to the In Patient Psychiatric Unit working with patients suffering from Post Traumatic Stress Disorder. While at the VA Hospital, Christi began a therapy program using dogs as therapy tools. She brought her Portuguese water dog, Star, to work each week as a part of the program.

Christi was an avid dog fancier, trainer and breeder. Her dogs were Portuguese water dogs. She was a member of Portuguese Water Dog Club of America and served on the Board of Directors of the PWDCA as well as their research committee, studying heart disease in Portuguese water dogs. She showed dogs across the country and had recently begun training as a judge. Christi loved travel and visited Portugal twice in the past three years. Her last trip included time at the 2001 World Dog Show in Porto, Portugal. She made friends around the world with her dogs.

Christi was a member of the PEO Sisterhood, Chapter EU of Oak Harbor and Washington Association of Physicians Assistants (WAPA).

Christi is survived by her parents Sandy Overton and Jim Smith of Oak Harbor, and half brother, Scott Mugford of Sacramento, Calif.; one uncle, Thomas Veblen and wife Diane Lorenz of Boulder Colo; and two cousins, Conner Veblen of Boulder and Kari Veblen of West Virginia. She was preceded in death by her grandparents Robert and Aileen Veblen. Christi will always be remembered as a person who always had time for others.